Spicy Venison Stew
Mexican Style
This spicy venison stew is a tasty, nutritious option for the cold winter days. Hot tip: you can make a bulk batch and freeze for later consumption, the stew tastes just as good second time around!
| | |
| --- | --- |
| Prep Time | 45 minutes |
| Cook Time | 45 minutes |
| Serves | 3-4 |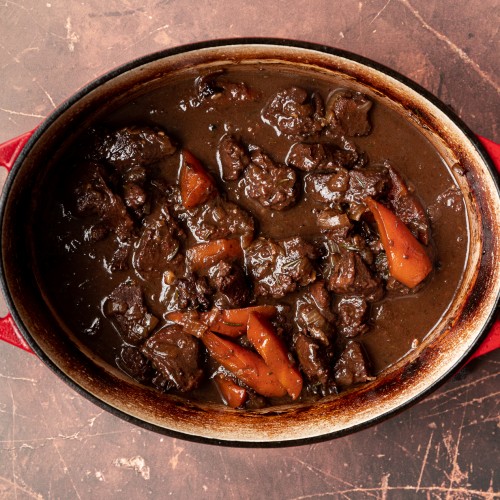 Ingredients
500-600gm diced venison
1 tsp chili powder
6 garlic cloves, minced
1/2 tsp ground cumin
1/2tsp salt
1/4 tsp black pepper
2 tbsp lime juice
3 tbsp olive oil
2 celery stalks, thinly sliced
1 medium onion, roughly chopped
1 large carrot, peeled and halved lengthwise
1/2 large jalapeno chili, thinly sliced
1 3/4 cup chicken stock
1/2 teaspoon dried oregano
2 bay leaves
3 tbsp flour
Method
Place diced venison in a single layer in large flat bottomed dish. Sprinkle with chili powder, garlic, cumin, salt and black pepper. Toss venison until evenly coated with seasonings. Drizzle with lime juice and 1 tbsp oil then toss again until evenly coated. Cover baking dish with plastic wrap and marinate venison in refrigerator for 30 mins.
Meanwhile, heat the remaining 2 tbsp of oil over medium heat in heavy based dutch oven. Add celery, onion, carrot and jalapeño chillies. Cook for about 5 mins or until onion is translucent and vegetables are crisp-tender, stirring occasionally.


Add marinated venison mixture to vegetables in dutch oven. Cook for 2 mins over medium heat, stirring occasionally. Stir in chicken stock, oregano and bay leaves. Bring mixture to boil. Reduce heat to medium to low. Gently simmer, covered, for 30 mins.
Stir together flour and 1/3 cup cold water in small bowl until smooth. Slowly stir flour mixture into stew mixture. Increase heat to medium; cook and stir for 1 min. Remove from heat.
Serve stew in bowls or, if desired, over rice.