Venison Katsu Sandwich
With black currant mayo and raw marinated cabbage
Katsudon is a popular Japanese dish, often featuring crumbed chicken schnitzel on rice. Our version features a marinated venison bistro fillet nestled in a crispy blanket of panko breadcrumbs. Served as tramezzini with blackcurrant mayonnaise and fresh coleslaw...it's a real treat.
| | |
| --- | --- |
| Prep Time | 30 mins |
| Cook Time | 15 mins |
| Serves | 4 |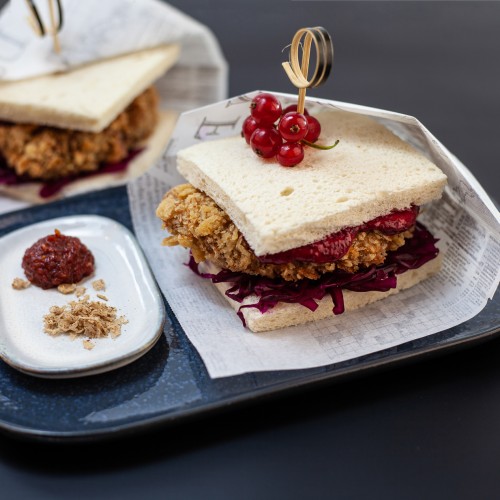 Ingredients
Katsu:
500-600g Duncan Venison Fillet Steaks
1/2 cup all purpose flour
2 eggs
1 cup panko breadcrumbs
Marinade:
1/2 tbsp French mustard
3 tbsp soy sauce (low salt content)
1 tbsp sake
1/4 tbsp mirin
Pinch of fine grated garlic
1 tbsp grated ginger
1 tbsp honey
3 tbsp water
Mayonnaise
50g frozen blackcurrant
1/2 teaspoon sugar
1 large egg at room temperature
1 tbsp Dijon mustard
1/4 teaspoon salt
1 cup (240ml) neutral flavoured oil (grapeseed, sunflower or canola)
1 teaspoon fresh lemon juice, optional
Coleslaw:
1/2 red cabbage
Pinch of salt
Sprinkle of sugar
2 tbsp caraway seeds
1 tbsp vinegar
Tramezzini
Method
Remove the venison from the vacuum bag, pat dry with a paper towel. Slice the venison fillets into steaks 1/2 inch thick.
Mix all the marinade ingredients together in a bowl. Marinate the venison slices in the mixture for 10 minutes.
Place the flour, egg and panko crumbs into separate shallow dishes. Coat the venison in flour, shaking off any excess. Dip them into the egg, and then press into the panko crumbs until well coated on both sides. Set aside for frying.
Combine the egg yolk, blackcurrant, sugar, vinegar, mustard and 1/2 teaspoon salt in a medium bowl. Whisk until blended, about 30 seconds. Using 1/4 teaspoon measure and whisking constantly, add 1/4 cup of oil to the yolk mixture, a few drops at a time, about 4 minutes. Gradually add remaining 1/2 cup oil in a very slow thin stream, whisking constantly, until mayonnaise is thick, about 8 minutes.
Cut the cabbage into fine strips, sprinkle the salt, sugar, caraway seeds and vinegar on the cabbage and rub it with your hands.
Heat 1/4 inch of oil in a large skillet over medium-high heat. Place schnitzel in the hot oil, and cook for 2-3 minutes each side until golden brown. Rest for 5 minutes before serving.
Spread mayo on both slices of tramezzini bread. Place the schnitzel on the bottom layer, followed by the coleslaw and top with tramezzini. Cut through the middle before serving.