Seared Venison Fillet with Red Wine Jus
Seared bistro fillet with pan fried summer vegetables and red wine jus
Chef Graham Brown provides another timeless classic - this bistro fillet with pan fried summer vegetables and a red wine jus is so simple, but so tasty. It's a quick, easy option that can be cooked in the kitchen or on the BBQ, perfect for those hot summer days.
| | |
| --- | --- |
| Prep Time | 20 mins |
| Cook Time | 20 mins |
| Serves | 4 |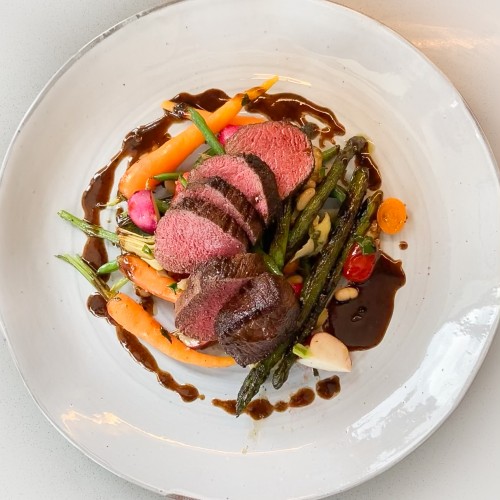 Ingredients
500g Duncan Venison Bistro Fillet
Rosemary and Thyme Sprigs
6 cloves garlic
50mls oil
30g butter
Sea salt and cracked pepper
Summer Vegetables
8 artichoke hearts (pre cooked)
1 bundle spring carrots
1 bunch asparagus or blanched green beans
1 punnet mixed cherry tomatoes
salt and pepper to taste
1 can cannellini beans
50ml extra virgin olive oil
sprigs of fresh mint and basil
Red Wine Jus
200mls brown stock
200mls red wine (pinot noir)
2 tsp cracked pepper
Method
Bring venison up to room temp and season with salt and cracked pepper prior to cooking. Preheat oven to 180°C.
Heat a heavy pan, add the cooking oil and butter, once the butter sizzles and begins to caramelize, add the venison and sear on all sides for 3 mins. Add the garlic and herbs to the pan and baste the meat in the natural juices for 20 seconds.

Roast the venison for 10 minutes at 180°C. After 5 minutes turn and baste the venison, then continue to roast. If using a temperature probe, remove the venison when it reaches 50°C, place on warm plate and cover to rest for 8 mins.
While the meat is resting, de-glaze the pan with the red wine, reduce by half, add the stock and cracked pepper, and reduce until you have a good strong flavoured jus. If necessary it can be thickened with a teaspoon of cornstarch dissolved in water. Strain and reserve.
For the vegetables, heat a pan with oil, add the asparagus and/or green beans and spring carrots and saute until just al dente. Add the remaining vegetables and cannellini beans and heat through. Add chopped basil and mint, then the olive oil, and season with salt and pepper. Keep warm.
Slice the venison and serve atop the seared vegetables. Garnish with salt, pepper and jus - enjoy!
To Serve:
Place a bed of vegetables on a platter. Slice each fillet into 6 even slices, and place on the vegetables. Pour the sauce around the platter and serve immediately.
Halved or quartered radishes also make a wonderful addition to the vegetables, as do the pre-cooked (canned or jar) artichokes.