Chef Marcel's Venison Shepherd's Pie
Venison shepherd's pie with agria potatoes and premium venison mince
Chef Marcel from Outward Bound New Zealand brings us his take on a kiwi classic - the shepherd's pie! This wholesome dish is a cost-effective way to feed the whole family.
| | |
| --- | --- |
| Prep Time | 30 mins |
| Cook Time | 1 hour |
| Serves | 4 |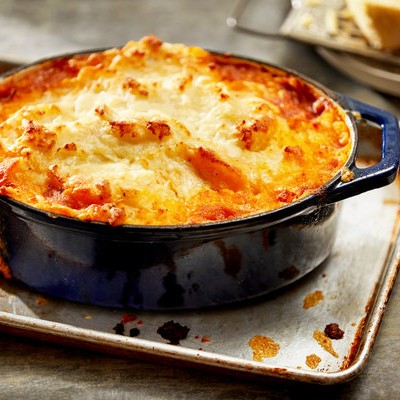 Ingredients
500g Duncan Venison Mince
1 brown onion
1 carrot
1 celery stalk
100g mushrooms
1 bay leaf
2 tsp Balsamic vinegar
1 tsp salt
1 tsp brown sugar
180g brown stock
1 tsp vegemite
2 tsp cornflour
Vege Mash Topping
250g diced and peeled potatoes
125g chopped carrots
1 brown onion, chopped
1 tsp salt
1 large egg
Cracked pepper to taste
Method
Dice the onion, carrots, celery stalk and mushrooms and sauté gently in a large pan with a little oil for 1-2 mins.
Add the venison mince and sauté gently until well combined and slightly browned.
Add bay leaf, balsamic, salt, brown sugar, stock and vegemite. Simmer gently for 30 minutes, taste, and season further if required. Pour into a greased oven dish and allow to cool.
In a large pot place chopped and peeled potatoes, carrot, and onion, and low boil for 40 mins or until soft. Drain, then add salt, pepper and butter, and mash roughly. Refrigerate.
Once the mash is cold, stir in the beaten egg. Spread over the venison mixture and roughen with a fork for texture.

Place in the oven and bake at 180°C for 35 minutes or until golden brown.
To Serve:
This is a hearty, easy-to-cook meal, which has filled many hungry bellies at Anakiwa Outward Bound School. For extra garnish a little grated cheese and smoked paprika can be sprinkled over the pie before baking in the oven.