Cornish Pasties
"This is for all you pasty lovers out there!
I love a good pasty. Traditionally pasties are made with beef, but when in Aotearoa I like to use the more sustainable, tender, flavoursome cuts of venison. The end results are out of this world!"
- Chef Alison Lambert
| | |
| --- | --- |
| Prep Time | 30 MIN |
| Cook Time | 50 MIN |
| Serves | 6 |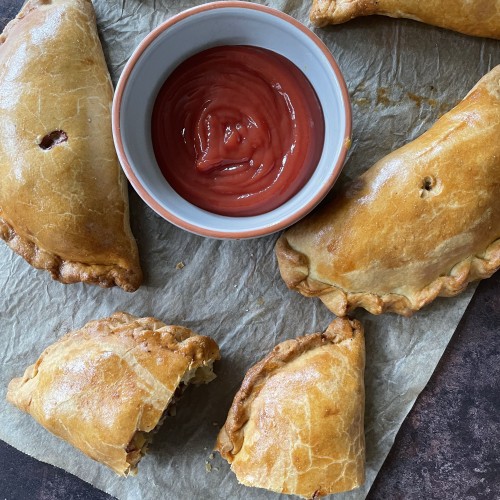 Ingredients
Shortcrust Pastry
450g plain flour
2 tsp baking powder
1 tsp salt
125g butter, diced
2 egg yolks
125ml cold water
Filling
300g Duncan Venison, finely diced
450g potato, peeled, finely diced
150g swede, peeled, finely diced
150g onion, peeled finely diced
2 tsp black pepper, finely ground
2 tsp salt
2 Tbsp flour
40g butter, diced
Egg yolk for glazing
Method
Begin by making the pastry: Place the flour, baking powder and salt in the bowl of your food processor. Blend to mix. Add the butter and mix briefly to blend. Add the egg yolks and blend to combine.
With the food processor running, gradually add the water until you see the dough turn into a ball. You may not need all the water!
Feel the dough with your hands and if it holds together easily then it is ready. Turn out onto your board and bring the dough together. Try not to overwork it.
Wrap and chill in the fridge for at least 30 minutes.
Preheat the oven to 180˚C
To make the filling: Place the venison and vegetables into a large bowl, season with the salt and pepper and sprinkle over the flour. Massage all the ingredients together (you can use your hands).
Roll the pastry on a lightly floured bench so it is around 2mm thick. Using a 10-12cm round side plate as your template, cut out 6 rounds of pastry.
Divide the mixture up into 6 and place 1 portion onto half of a pastry circle, allowing space around the edge.
Dot with butter. Brush lightly with egg, then fold the pastry over the filling and seal firmly. Starting at one side, crimp the edges by overlapping the pastry so you get a D-shaped pasty.
Brush the pasties with the egg and pierce a hole in the top with the tip of a knife.
Bake in a preheated oven and cook for 45-50 minutes or until the pastry is golden and crisp and the filling cooked through.
Allow to sit for 5-10 minutes before eating.
To Serve:
Serve as a snack or part of the main meal, these are delicious dipped in a rich homemade tomato sauce!