Seared Venison Fillet with Cajun Salsa
Duncan Venison Bistro Fillet with Black Bean, Corn and Kumara Salsa, and Avocado Cilantro Cream.
| | |
| --- | --- |
| Prep Time | 1 hour |
| Cook Time | 30 mins |
| Serves | 4 |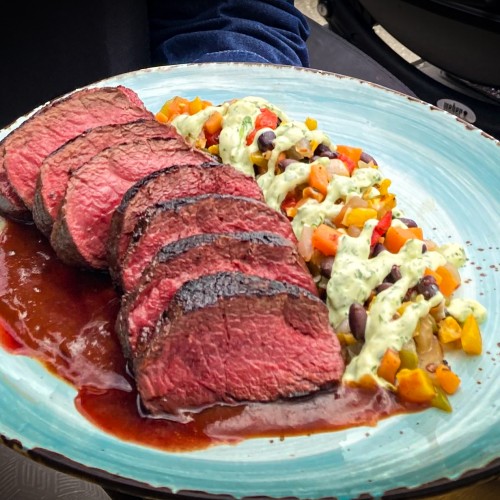 Ingredients
500g Duncan Venison Bistro Fillets
1 tbsp Cajun Spice Rub
Sea Salt
1 tbsp black pepper
1 tbsp butter
Cajun Salsa
3 peppers/capsicum, mixed colours
2 corn cobs or 1 can drained kernel corn
1 kumara diced, blanched and refreshed
1 large red onion
2 cloves roasted garlic or 1 tsp crushed garlic
1 tsp crushed chilli
400g can drained cooked black beans
1 handful chopped fresh coriander/cilantro
2 limes (juiced)
2 tbsp olive oil
Avocado Cilantro Cream
150mls sour cream
1 ripe avocado
1 cup washed coriander leaves
1 lime - zest
Method
Rub the cajun spice into the meat and allow to stand for 20 - 30 minutes.
Lightly grill fresh corn, or kernels, until lightly browned.

Over a naked flame, blacken the red, yellow and green peppers, put in a covered bowl for 10 minutes, then remove the blackened skin and dice the flesh.
Finely diced the red onion, and sauté in oil until soft.
Dice the kumara into 5mm chunks, cook briefly until just tender, and refresh in cold water.

Combine all salsa ingredients together 10 minutes before serving.
Place sour cream, avocado, washed coriander, lime juice and lime zest in a blender and blend until smooth. Season if required. Keep chilled.
Heat a cast iron pan, or BBQ plate, until hot. Season venison well with salt and pepper, then sear on all sides for 3 minutes, baste for the final 20 seconds.
After searing and basting the meat, roast at 180°C for 10 minutes (turn and baste after 5 minutes). If using a meat thermometer remove from the oven at 50°C, cover loosely, and rest for at least 5 minutes.
To Serve:
Slice the venison across the grain, and fan out over the salsa. Serve the avocado cream on the side, along with some ranch fries (if wanted) and enjoy with some of your favourite smokey BBQ sauce.