Venison Bistro Fillet on Lentil Salad
Seared bistro fillets with warm lentil, shallot and tomato salad
This seared bistro fillet atop a warm lentil and tomato salad is super quick and easy to prepare. Light and tasty, it's a great summertime option for lunch, dinner or both!
| | |
| --- | --- |
| Prep Time | 30 minutes |
| Cook Time | 30 minutes |
| Serves | 6-7 |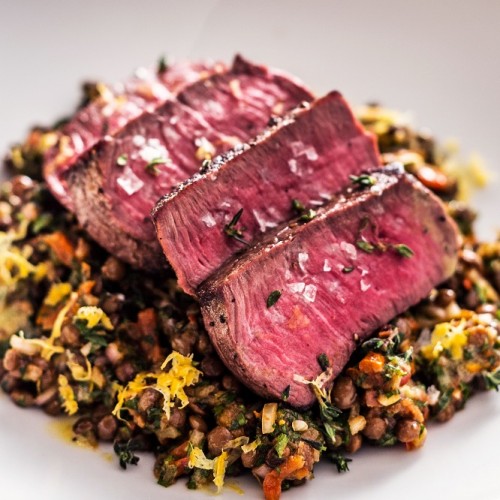 Ingredients
800g Duncan Venison bistro fillets (200g portions)
Small knob of butter
2 tbsp grapeseed oil
Lentil & Tomato Salad
250g dried puy lentils
2 banana shallots finely chopped
8 sun-blushed tomatoes
2 tbsp chopped coriander
1 fresh red chilli, finely chopped
2 tsp Dijon mustard
2 lemons juice and zest
1 tsp red wine vinegar
6 tbsp olive oil
1 clove garlic, finely grated
2 tbsp chopped parsley
Method
Wash the lentils in cold water and transfer into a saucepan. Cover with cold water and place on the heat. Once the lentils are boiling, turn the heat down and allow to simmer for 10-15 minutes or until tender.
Dice the shallots very finely and place in a mixing bowl. Chop the sun-blushed tomatoes and add into the shallots along with the coriander, parsley, chilli, garlic, Dijon mustard, vinegar, lemon juice and zest, and the olive oil. Drain the lentils, mix while still warm and season to taste.
Season the venison bistro fillets with salt, pepper and oil. Sear all sides at high heat for approx 30 seconds each side (3 minutes total). Add a little extra butter and baste for 20 seconds.
Roast the venison fillets for 5 minutes at 180°C. Turn and roast for a further 4-5 minutes.
Cover and rest the venison for 5 minutes while dishing up the salad.
To Serve:
Slice the venison and serve on top of the salad with salt and freshly cracked pepper.