Jerk Spice Venison
with Rice and Peas
Jerk spice is a Jamaican specialty, pleasing the taste buds with a perfectly blended mixture of sweet and spice. A beautiful pairing for all things smokey and BBQ, the spice mix can be made at home and kept to be used for any dish.
Here, the dish is served with the traditional 'rice and peas', making for a satisfying and healthy dinner which is quick to prepare and leaves plenty of tasty leftovers. The tenderness of the venison, ease of cooking and mouth watering flavours make this dish a hard one to turn down!
Chef Shannon Campbell's recommendation for bringing this up a notch is to slow-roast a venison shoulder lathered in the jerk spice, and basted with the tamarind and date syrup. Quote him on it, it'll make you the hero of the day.
| | |
| --- | --- |
| Prep Time | 30 minutes |
| Cook Time | 30 minutes |
| Serves | 3 |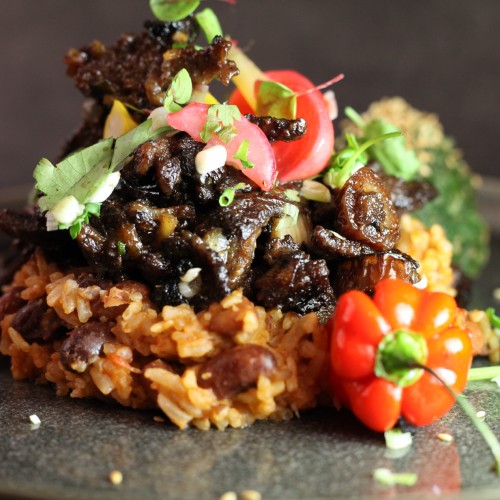 Ingredients
Jerk Spice
1 tbsp garlic powder
3 tsp cayenne pepper
2 tsp onion powder
2 tsp thyme
2 tsp sugar
2 tsp salt
1 tsp paprika
1 tsp allspice
1/2 tsp black pepper
1/2 tsp red pepper
1/2 tsp nutmeg
1/4 tsp cinnamon
Rice and Peas
1 small tin of kidney beans with their liquid
1 can of lite coconut milk, unsweetened
2 cups long-grain white rice, rinsed well and drained
2 cloves garlic, minced
3 scallions (green onions or spring onions), washed and trimmed, cut in half
3-4 sprigs fresh thyme or 1 tsp dried thyme
1 tsp kosher salt, to taste
1/4 tsp ground allspice
1 whole, uncut Scotch bonnet or habanero pepper
1/2-inch piece of ginger, peeled and left whole
For the Venison
500g Duncan Venison, diced
Jerk spice
50ml tamarind paste
1 tbsp date syrup or brown sugar
1 Scotch bonnet pepper or habanero, keep whole
1 onion, diced
Handful of chopped dates
To Serve
Coriander leaves
Spring onion, chopped
Lime segments
Method
For the rice and peas, drain the bean liquid into a large measuring cup and reserve the beans. Add the coconut milk to the bean liquid. Add enough water to make 3 & 1/3 cups of liquid total.
Next, add the liquid, beans, rice, and all other ingredients to a rice cooker. Program the rice cooker.
Once cooked, discard the scallions, thyme stems, Scotch bonnet and ginger. Fluff the rice with a fork and serve hot.
While the rice is cooking, prepare the jerk spice venison.
Combine and grind all jerk spice ingredients.
Dice the venison into smallish cubes and rub in jerk seasoning. Set aside for 10 minutes.
Bring a pan to medium heat and fry the diced onion slowly in oil with the Scotch bonnet pepper or habanero. When the onion is translucent, add the dates and caramelise a little, then increase the heat and add the venison, tossing to ensure all sides are seared and jerk spice is toasted.
Next, add the tamarind and date syrup. If needed, a splash of water can be added for extra moisture. Taste the mixture and add a little more sweetness (tamarind or date) our sourness (jerk spice or pepper) to taste.
To Serve:
Serve venison over rice and peas, and sprinkle over the coriander, spring onion, and lime segments.