Venison Lahmacun/Turkish Pizza
With Fresh Hummus, Pine Nuts and Pickles
Lahmacun is a traditional Turkish street food. It is similar to pizza but there are two versions, one with yeast and one with baking powder. They both taste delicious and are very easy to make. Also unlike some pizza recipes they work well in regular household ovens without pizza stones and the like.
| | |
| --- | --- |
| Prep Time | 1 hour |
| Cook Time | 30 mins |
| Serves | 4 |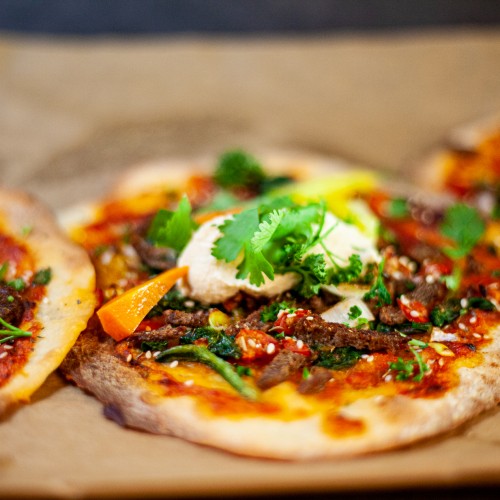 Ingredients
Yeast Version:
1 tsp dry yeast
1/4 teaspoon sugar
100ml lukewarm water
260g flour
1/2 teaspoon of salt
Baking Powder Version:
170g flour
1 tsp baking powder
1/2 tsp salt
120ml milk
2 tbsp olive oil
Toppings:
400-500g ground venison
60 ml (1/4 cup) olive oil
2 tbsp tomato paste
1 tsp dried chilli flakes
6 chopped fresh tomatoes
juice of 1/2 lemon
3 tsp sumac
1 tsp paprika
1 tbsp cumin
6 chopped garlic cloves
1/4 cup tahini
Salt and pepper to taste
Optional Garnishes:
2 tbsp chopped parsley
1/3 cup (50g) toasted pine nuts
Fresh hummus
Pickles
Method
In both cases mix the wet ingredients into the dry ingredients and then knead the dough.
For the yeast version set aside to rise then knock back to roll out.
For the baking powder version allow to rest for at least 30 mins before using.
The venison is chopped in small chunks, rolled in oil and then spiced with sumach, cumin and smoked paprika. You can use venison mince, venison ragout cut a little smaller or go full on luxury with striploin or tenderloin.
Preheat the oven to 200C. Heat 2 tablespoons of oil in a skillet over a moderate hear then add the garlic. Cook for 2 minutes, stirring constantly.
Add the tomatoes and cook for 15 minutes, pressing down on them, until the liquid has reduced a bit.
Add sumach, tomato paste, chilli and paprika. Stir for a minute, then take mixture off the heat.
Stir in the ground venison and season with salt and pepper. The venison requires minimal cooking, a couple of minutes will do.
Divide the dough into 4 equal parts and punch each one down, shaping into an oval or circle.
Brush olive oil over each one, followed by the topping mixture. Bake the pizzas for 20 minutes each.
Whisk the lemon juice and tahini, then add salt and pepper. Drizzle the tahini mixture over the cooked pizzas.
Serve while hot with your choice of side dishes and garnishes. Final toppings of hummus, fresh herbs and fresh pickles makes for an absolute treat!