Venison & Rocket Salad
With grilled pears, fresh walnuts and crispy bacon
| | |
| --- | --- |
| Prep Time | 10 minutes |
| Cook Time | 20 minutes |
| Serves | 4 |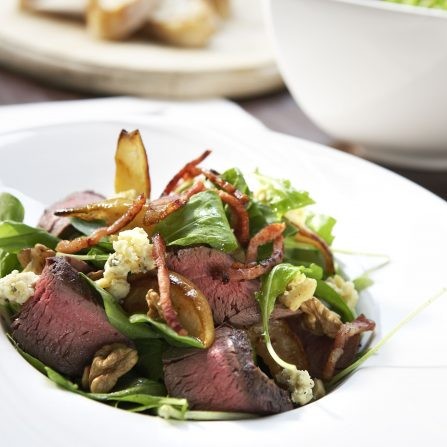 Ingredients
400g Duncan Venison Bistro Fillet Steaks
1 tsp wholegrain mustard
1 tbsp oil
2 pears
2 rashers streaky bacon
1 handful fresh walnut halves
1 bunch well washed rocket
Salt and cracked black pepper
Dressing
80g gorgonzola crumbled with a fork
4 tbsp walnut oil
1 tbsp red wine or tarragon vinegar
2 tbsp chopped chives
1 tsp wholegrain mustard
1 egg
Pinch of salt
Pepper to taste
Method
Remove the venison from the vacuum bag and pat dry with a paper towel to get rid of any excess moisture. Let rest for 20 minutes or until the meat reaches room temperature.
Lather the venison with wholegrain mustard and season with salt and pepper. Place in a hot barbeque or cast-iron fry pan brushed with oil. Sear on all sides for 2-3 minutes, then baste with butter/oil and reduce to low heat to cook for a further 8 minutes. Cover and rest.
Slice the bacon thinly and fry until crispy. Core the pears and slice them top to bottom into eighths. Sear with a little sugar or maple syrup until lightly coloured.
Cut the venison across the grain into 3mm slices. Gently mix venison slices with salad, bacon and pears on a platter and drizzle with the dressing immediately before serving.