Seared Venison Loin with Diane Sauce
A stunning recipe created by Duncan NZ team member Simon Lambert! The Diane sauce complements the naturally buttery flavours of the venison - this dish ticks all the boxes in terms of taste and texture. We recommend enjoying with a side of kumara or potato mash, along with grilled carrots and asparagus.
| | |
| --- | --- |
| Prep Time | 10 mins |
| Cook Time | 20 mins |
| Serves | 2 |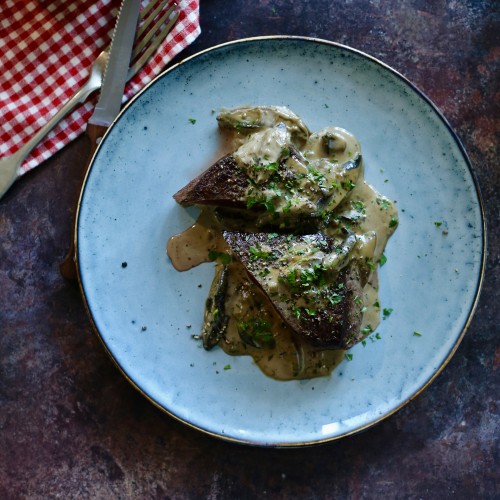 Ingredients
400g Duncan Venison Bistro Fillet
1 tbsp oil
1/2 tsp fresh thyme, finely chopped
1/2 tsp fresh rosemary, finely chopped
1 tsp black peppercorns, crushed
Sea salt flakes
50g unsalted butter
1 shallot, finely diced
300g mushrooms
2 tbsp brandy
2 tbsp red wine
1 tsp dijon mustard
1 tsp english mustard
100ml cream
2 tsp worcerstershire sauce
1 tbsp parsley, chopped
Method
Remove the venison from the vacuum bag, and portion into 200-250g steaks. Rub the thyme and rosemary over the venison with a little oil, and allow to sit for 30 minutes at room temperature.
Heat a medium sized fry pan over moderate to high heat. You want the pan to be smoking hot. Drizzle over 1 tablespoon of oil over the venison, sprinkle over a little black pepper and a little sea salt.
Place the venison in the hot pan and cook for 2 minutes. Turn over and continue to sear for a further 2 minutes. Sear around the edges for an additional 90 seconds total, so the venison is well browned on all sides.
Add a knob of butter and a little oil, turn the steak over in the bubbling butter and baste. Remove the venison from the pan after approximately 6 minutes cooking time total, or when it reaches an internal temperature of 50-52˚C. Cover and rest for at least 10 minutes. You can rest the venison here for as long as you like - if it cools off simply flash over high heat for 30 seconds before serving.
Wipe the pan clean and place it back onto the heat. Add the remaining butter, shallots and mushrooms, season lightly with salt and pepper, jiggling the pan to keep the mushrooms and shallots moving.
Pour in the brandy, then carefully light the brandy and allow the alcohol to burn off. Add the red wine and reduce by half.
Next, add the cream, mustards and worcestershire sauce. Stir, making sure you get all the tasty bits of the bottom of the pan. Remove from the heat once the sauce has thickened, become glossy and taken on a deep caramel colour.
Add the parsley and remaining pepper, taste and adjust the seasoning if necessary.
To Serve:
Serve the venison with the delicious Diane sauce poured over the top, garnish with an extra sprinkling of parsley.