Braised Venison Short Ribs
With Yakiniku Glaze, Sweet Carrot and Cucumber Salad
| | |
| --- | --- |
| Prep Time | 1 hour |
| Cook Time | 4 hours |
| Serves | 4-5 |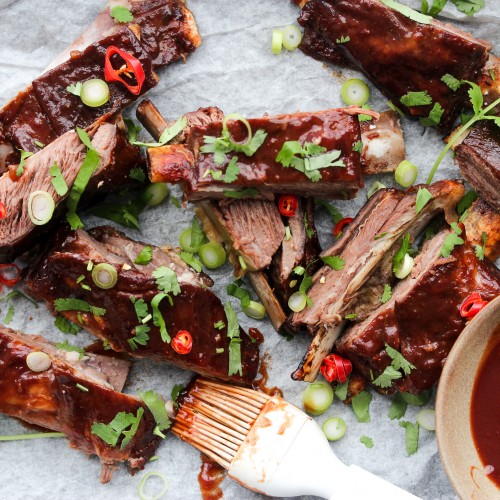 Ingredients
1kg Duncan Venison Short Rib
2 tbsp olive oil
1 onion, diced
4 garlic cloves, minced
500g diced vegetables of your choice
1 tsp salt
1/2 tsp pepper
1/4 tsp dried thyme
250ml red wine
1 tbsp apple cider vinegar
2 cups beef or venison broth/stock
1 cup tomato puree
Salt and pepper to taste
2 fresh rosemary sprigs
1/2 tsp dried thyme
Yakinuki Glaze
50ml sweet chilli sauce
50ml hoisin sauce
100ml light soy sauce
15g crushed ginger
4 minced garlic cloves
100ml mirin
25ml rice wine vinegar
5g sesame seeds
10ml sesame oil
Method
Begin with the Yakinuki marinade. Combine all ingredients and bring to the boil, cook until a nice thick consistency is achieved. Leave in the fridge to cool.
Remove the short ribs from the bag and trim off the silverskin as best you can. Cut the ribs into pieces of 3-4 ribs each. Make a small incision along the back of the ribs, between each rib. This will allow the meat to soak up the flavours of the braising liquid. Marinade the ribs in the Yaki glaze for 2 hours, turning often.
Meanwhile, prep the mirepoix (diced mix) of vegetables. In this case we used onions, garlic, and carrots, but anything will do.
Heat one tbsp of oil in a large, deep pan. Sear the ribs for 1-2 minutes each side until well browned, you may have to do this in batches. When the ribs are brown and crispy on the outside, set aside to cool.
Add the mirepoix of vegetable to the pan and cook for 5 minutes until they start to brown. Season with salt, pepper and thyme and cook for another 2 minutes.
Add the wine, stock, apple cider vinegar and tomato puree. Bring to the boil and remove from the heat.
If your pan is large enough you can add the ribs back into the pan, otherwise transfer the ingredients to an appropriate braising dish. Ensure the ribs are well covered with sauce. Place the rosemary on top, then cover and cook at 140˚C for 4 hours. If you are pressed for time you can cook for 2 hours at 180˚C, but keep in mind this may compromise the tenderness.
Remove the ribs from the oven after 4 hours, the meat should be falling off the bone. Heat the Yaki Glaze and serve with your choice of vegetable mash, salad or risotto.
To Serve:
Serve with the Yaki Glaze and some chopped spring onion, parsley and chillis. Enjoy as an entrée, or serve as a main with salad and mash. Best enjoyed with an ice cold Yuzu Lager from Duncan's Brewing!