Venison Hummus Bowl
with Garam Masala and Marsala Wine
Hummus is a fantastic substitute for polenta puree or potato, rice and other variants. Nutritious, filling and delicious. Make it with fresh chickpeas, it is a revelation.
Marsala wine is full flavoured, has a rich history and is used mostly as a dessert wine but here it combines wonderfully with the venison and flavours of the spices. If you don't have any then use port or sherry or in a pinch red wine and a dash of balsamic vinegar with a little brown sugar.
Garam masala is a spice mix combining cumin, coriander, bay leaves, chilli, pepper, cardamom, cloves, cinnamon and nutmeg. You can make it yourself and adjust the proportions for a sweet (nutmeg, cinnamon, cloves and cardamom) or spicier mix (pepper, chilli).
Topping the whole thing off with fresh herbs, lemon and pickled radishes makes for a richly flavoured, nutritious and healthy meal that compliments the considerable health benefits of grass-fed New Zealand Venison.
| | |
| --- | --- |
| Prep Time | 15 mins |
| Cook Time | 30 mins |
| Serves | 2 |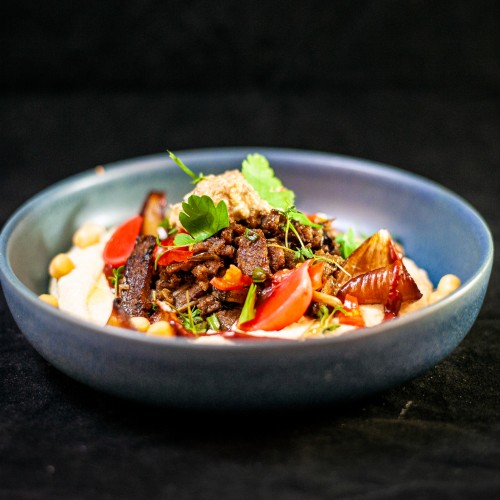 Ingredients
250g diced or minced Duncan Venison
1 lemon
3 tbsp of Garam Masala spice
100ml of Marsala wine
1/2 onion, thinly sliced
Fresh parsley to garnish
3 tbsp toasted pistachio
Hummus:
500g boiled chickpeas
6 tbsp tahini
4 tbsp olive oil
1 large lemon, juiced
1 clove garlic
1 tsp salt
Water to add as needed
Optional Toppings:
Pickled radishes
Baba Ganoush
Roasted chickpeas
Method
Add all the hummus ingredients to a blender and mix at high speed. Add a spoonful of water at a time to achieve desired consistency. Add more ingredients to taste if necessary.
Remove the venison from the packaging, pat dry with a paper towel. Rub the venison in the garam masala spice mix, set aside to rest.
Heat 1tbsp oil/butter in a wide dish pan. Fry half an onion (finely sliced) for 10-15 seconds.
Turn up the heat to high, add the venison and sear until browned. Splash with the marsala wine and a sprinkle of salt.
Once the wine has glazed the venison, add a cube of butter and toss the venison until combined. Remove from the heat and rest briefly.
Spoon the hummus into a shallow bowl, making a shallow well in the middle. Spoon the venison into the well and then sprinkle with a little lemon juice, fresh parsley and toasted pistachio. Add a little baba ganoush, pickled radishes or other handy tasty toppings on top and serve immediately.
To Serve:
Serving tips: hummus is best served warm or at room temperature, so if you make it in advance be sure to bring it out of the fridge a while before serving.