Venison Kiwi Burger
| | |
| --- | --- |
| Prep Time | 30 mins |
| Cook Time | 20 mins |
| Serves | 4 |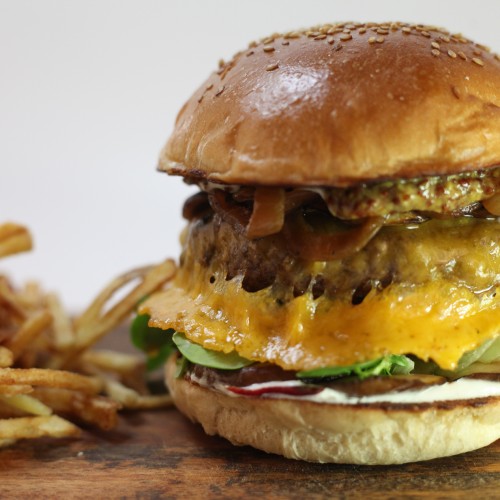 Ingredients
4 large hamburger buns
4 eggs
4 slices of tasty cheese
1 medium sized onion, sliced into rings
8 pickled beetroot slices
100gm or 1/8 of an iceberg lettuce
Tomato ketchup, relish or your favourite BBQ sauce
2 oz of butter or oil
Burger patties
500gm venison mince
2oz finely chopped shallots or onion
1tbsp instant potato flakes
1 tbsp Dijon mustard
1 tbsp fresh thyme, chopped
1 tbsp chopped parsley
2oz butter
Plenty of salt and pepper to taste
Method
Sautée the chopped shallots in the butter until soft, then remove from the heat and add the thyme, parsley and mustard. Combine and let cool.
Take 1/3 of the meat and place in a food processor. Mix briefly with the cooled shallot mixture and potato flakes.
Remove and fold in the remaining ground venison until well combined. Divide into 4 even size pieces, then using wet hands shape the burger patties to match the bun size (they should be about 1/4 inch thick). Keep cold until ready to cook.
Take the butter and grease a large hot heavy pan or flat top grill. Grill the burgers until well coloured on each side, and continue until your desired level of cooking. Move the meat to a lower heat and rest, with cheese and onions on top.
Cook the eggs until just soft, in the meantime toast the buns on the cut side. Place the eggs on top of the burger patties when finished.
Apply sauce to the bottom bun, followed by sliced beetroot and lettuce. Place the garnished burger pattie on top, then sauce the top bun and complete the stack. Press lightly to secure, and serve.
For the perfect potato fries: cut the potato into thin or thick fries depending on your preference. Blanch in boiling salted water and remove while still firm, then wash under cold water until cool.
Pat the fries dry with a paper towel and reserve until needed. Fry until crisp and golden brown. With sweet potato fries it helps to coat them lightly in cornflour, which crisps them up nicely.