Venison Kofta Pita Bread
with caramelised onion, cucumber raita, hummus, coleslaw and pickled veges
Kofta is a Middle Eastern style of grilled chopped meat on a kebab stick, and makes for a fun and interesting way to use up some leftover Duncan venison mince! This is a quick and easy low-fat dish perfect as an appetizer or main course. Get the whole family involved in making the tasty toppings and building their own pitas!
For the toppings, the pickled veggies need to be prepared a day in advance. All other condiments/toppings can be prepped first so that the koftas are fresh, hot, and juicy when it's time to eat. This is a good fridge cleaning dish; the pickled veggies can be made with almost anything, and the slaw can be chopped and changed as you please.
| | |
| --- | --- |
| Prep Time | 45 mins |
| Cook Time | 30 mins |
| Serves | 2-4 |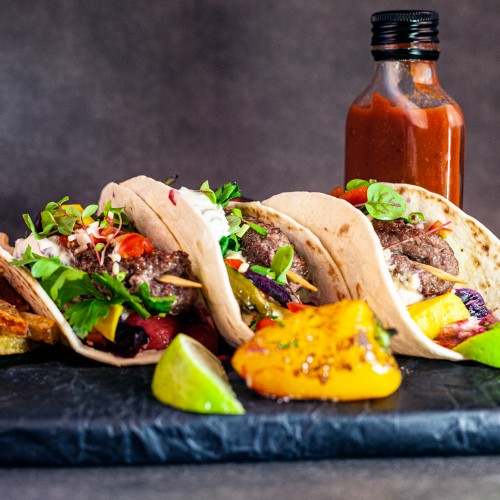 Ingredients
Kofta
300g Duncan Venison Mince
2 tbsp Ras al Hanout spice
Salt and pepper
4 Bamboo skewers
Pickled Veggies
2 radishes
1 carrot
200ml vinegar (any type)
200ml water
2 tbsp sugar
Caramelised Onions
3 large onions (red or white)
2 tbsp olive oil
2 tbsp soft brown sugar
1-2 tbsp balsamic vinegar
Cucumber Raita
1 cucumber
250g yogurt
1/2 tsp toasted cumin powder
1 green chilli (seeded and finely chopped)
Handful of mint leaves (chopped)
1 tsp finely grated ginger
Hummus
500g boiled chickpeas (250g dried, or 2 cans)
6 tbsp tahini
4 tbsp olive oil
1 large lemon, juiced
1 garlic clove
1 tsp salt
1/2 cup ice-cold water
Quick Coleslaw
1/2 spring cabbage
2 tbsp olive oil
1 lemon/lime juiced
1/2 tsp sugar
1/2 tsp ground cumin
Avocado Mash
1 large avocado
1 lime juiced
1 tomato (diced)
1 tsp cayenne pepper
A handful of coriander (chopped)
Salt and pepper
Method
Prepare the pickled veggies a day in advance. Thinly slice or peel the radishes and carrot and place in a bowl. In a pot, heat the water and vinegar and add the sugar. Feel free to add any spices you may like here (e.g. coriander seeds, pepper, bay leaves) however it is not necessary. Once the sugar has dissolved, pour the hot liquid over the veggies and leave to rest. They will be ready to eat the next day and can be stored in the fridge.
*Prepare the other toppings first if you'd like your kofta fresh.
For the kofta, in a large bowl mix the mince, ras al hanout and a good grind of salt and pepper. Split into 4 equal amounts and evenly wrap/form each portion around the bamboo skewers.
Season with another grind of salt and pepper and flame grill until medium-rare (about 6-8 minutes), turning consistently for even browning.
For the caramelised onions - slice the onions and heat the oil in a large pan over low heat. Add the onions and a grind of salt and cook slowly for 30 minutes. Stir occasionally and add a splash of water if they stick. Next, add the sugar and vinegar, cooking slowly until sticky and the sugar and vinegar are fully incorporated. Feel free to make extra, you will find you use them for all kinds of things!
To make the cucumber raita, halve the cucumber lengthways and scoop out the seeds with a small spoon, then grate it. Sprinkle with salt and set aside. Halve the green chilli lengthways and scrape out the seeds, then finely chop. Toast the ground cumin in a pan (only takes about a minute) and chop the mint leaves. Next, mix together the yogurt, cumin, mint leaves, and a pinch of salt. Place the cucumber in a sieve and press out the juices, then combine the cucumber with the yogurt mixture.
For the hummus, if you are using dried chickpeas, soak them overnight, then boil for 15-20 minutes until they start to break apart, scraping any foam off the top and straining when done. If you are using canned, simply drain and rinse. In a food processor, blend the chickpeas, tahini, olive oil, lemon juice, garlic, and salt. Add the cold water one spoonful at a time to achieve the desired consistency; more water for a smoother puree, less for a firm hummus. Taste the hummus before taking it out of the food processor, you may like to add a bit more lemon, tahini, garlic, or salt to your tastes.
To prepare the coleslaw, simply slice the cabbage as thinly as possible and toss in a bowl with the olive oil, lemon/lime juice, sugar, cumin and a pinch of salt. Set aside, stirring occasionally to mix the juice. You can add a grated granny smith apple for a more tangy flavour.
Now for the avocado mash. Scoop out the avocado and mash with a fork. Mix in the lime juice, coriander, tomato, cayenne pepper and a grind of salt to taste.
Warm the pita breads in the oven or on the stove.
To Serve:
Now for the fun! To serve, top the warmed pitas with the kofta, tasty dips and your choice of the fresh and cooked veggies. This dish is also nice with homemade kumara fries, some fresh lettuce leaves and chopped tomatoes on the side. Garnish with fresh coriander, and keep your hot sauce handy!