Crispy Venison Kushiage
with quicne chutney, Shichimi paste and lime
Kushiage, said to originate from Osaka, is a popular fast food throughout Japan. 'Kushi' is the bamboo skewer upon which it is served. Kushiage can be made with anything, but we've found that this recipe really shows off the tenderness of NZ venison, and its ability to pair with almost anything!
| | |
| --- | --- |
| Prep Time | 25 mins |
| Cook Time | 20 mins |
| Serves | 2-3 |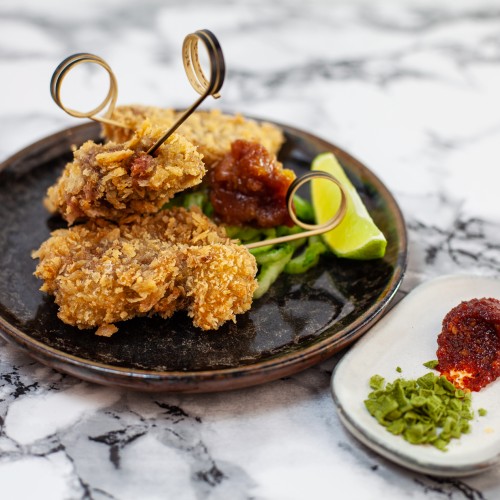 Ingredients
400g Duncan Venison, leg cuts
1/2 tbsp French mustard
3 tbsp soy sauce (low salt)
1 tbsp sake
1/4 tbsp mirin
1/2 tsp fine grated garlic
1 tbsp grated ginger
5 drops of liquid smoke
1 tbsp honey
3 tbsp water
2 cups panko crumbs
1/2 cup cornflour
2 eggs
1 lime or lemon
Shichimi paste (to serve)
500ml-1L of vegetable oil for frying
Quince Chutney
1 quince
5 tbsp white wine
2 tbsp lime juice
1/2 cup pear juice
1 star anise
1 cinnamon stick
1/2 tsp salt
1/2 tbsp brown sugar
Method
In a bowl mix together the mustard, soy sauce, sake, mirin, grated garlic, grated ginger, liquid smoke, honey, and water. Slice the venison into thick but mouth size pieces and rub the marinade into the meat. Let it sit for 10 minutes.
Peel the quince, cut it into quarters and cut out the core. Dice it into 1cm cubes. Heat a pot over low-medium heat and add the brown sugar, allowing it to caramelise. Stir to prevent sticking or burning. Add the quince and deglaze it immediately by adding the white wine, pear juice, and lime juice. Add the cinnamon and star anise and let it cook for another 10 minutes, then remove from heat and allow to cool.

In a deep dish pan or pot heat the oil to 170°C. Beat the eggs and place in a shallow bowl. Pat the venison dry with paper towels and coat it in the cornflour, then the beaten eggs, and finally coat in the panko crumbs. Skewer and deep fry the pieces until they are golden brown (around 2-3 minutes). They may need to be turned halfway through.
To Serve:
Place the skewers on a plate with Shichimi paste (for some added heat!), quince chutney and a few lime wedges on the side. Serve this dish as a starter, or even a late-night belly filler which everyone is sure to enjoy.