Venison Pastrami Sandwich
with pickled veggies and coleslaw
Undyingly popular in the USA, pastrami is, with a little patience, easy to make at home. Sliced thinly and piled high on a sandwich it is true comfort food. NZ venison's low-fat content makes this a tender and healthy extravagance, the perfect lunch break!
| | |
| --- | --- |
| Prep Time | 30 minutes (plus overnight) |
| Cook Time | 30 minutes |
| Serves | 2-3 |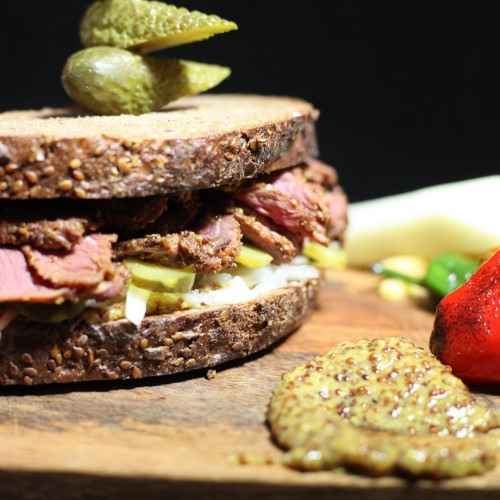 Ingredients
Pastrami Brine
1L water
16g pickling salt
1 tbsp pimento
1 tbsp dried lovage
1 bay leaf
Rub
500g Duncan Venison tri-tip or leg cut
2 tbsp whole black peppercorns
1 tbsp whole coriander seeds
1/2 tsp whole mustard seeds
2 tsp grated garlic
2 tsp grated onion
1 tbsp mustard
1 tbsp dried parsley
1 tbsp paprika
1 tbsp brown sugar
1 tbsp oyster sauce
For the Sandwich
Fresh dark bread (wholemeal, sourdough or rye)
Butter
Olive oil
1/3 cup mustard
1/4 cup honey
2 sliced pickled beetroot
6 cornichons
1/2 spring cabbage
1/2 tsp sugar
1/2 tsp salt
1/2 tbsp white vinegar
1 tbsp horseradish
Method
In a large pot, heat the water until it boils, stir in the pickling salt and remove from the heat. Add the pimento, bay leaf, and lovage and allow to cool. Place the venison in the brine and make sure it is covered. Leave to steep overnight in the fridge.
Preheat the oven to 180°C.
Slice the cabbage into fine strips. Sprinkle with salt, sugar, and vinegar and mix together. After 10 minutes, add the horseradish.
Mix the honey and mustard together for the honey mustard sauce, taste, and add a little more of either for a stronger or sweeter sauce.
Next, roast the whole peppercorns, coriander seeds, and mustard seeds in a pan until they start cracking. Let them cool down, then in a mortar crush the spices, garlic, onions, mustard, parsley, paprika, brown sugar, and oyster sauce.

Rub the spice mix into the meat covering all surfaces evenly. Bring a pan to medium heat and fry each side of the meat briefly, to seal the spices. Finish in the oven to a core temperature of 57°C (about 10 minutes). Once it is finished cooking, allow the venison to cool then slice it thinly and set aside.

Cut the bread in slices, butter on both sides, and toast in a pan. Slice the cornichons and pickled beets.
To Serve:
Arrange the coleslaw, cornichon, pickled beets, and as much Pastrami as you want on your sandwich, and top it with honey mustard sauce. Place the other slice on top and garnish with an extra cornichon.