Venison Patties
Everybody loves a good burger. A great patty lays the foundation for the epic burger creation that follows - it's not rocket science, but there are a few key steps that must be followed to ensure your patties are always moist and flavoursome.
We prefer making patties from our ground venison mince because it's leaner, healthier, and richer in flavour when compared to beef. Once you try it, you'll never go back! We also use instant mashed potato flakes instead of breadcrumbs to ensure our patties are gluten-free. This also helps the mixture to bind while preventing it from getting soggy.
Our recipe will guide you through the process of making a simple but effective venison patty. It contains all the ingredients and tips you need for success, but don't let us hold you back - if you want to jazz it up with some smoky paprika, dried cranberries or worcestershire sauce, by all means do so!
| | |
| --- | --- |
| Prep Time | 20 minutes |
| Cook Time | 10 minutes |
| Serves | 4 |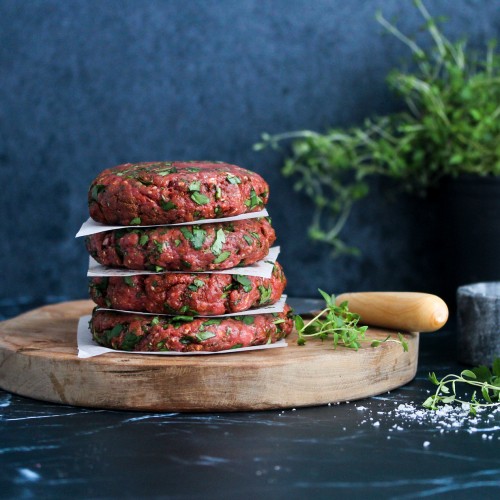 Ingredients
500g Duncan Venison mince
1 shallot or 1/2 onion, finely chopped
1 tbsp instant mashed potato flakes
1 tbsp Dijon mustard
1 tbsp fresh thyme
1 tbsp chopped parsley
30g butter
Plenty of salt and pepper to taste
Method
Ensure the parsley, thyme and shallot/onion are finely chopped. Sauté the chopped shallots in the butter until soft, then remove from the heat and add the thyme, parsley and mustard. Combine and let cool. If time is short you can mix the ingredients raw, however this may compromise taste and texture.
Fold the ingredients in with the mince and mashed potato flakes, mix until well combined. The mashed potato flakes are a great alternative to breadcrumbs - they are an exceptional binding agent, and best of all gluten-free! This will produce a nice chunky, gourmet pattie texture.
If you prefer a more traditional, finer grind, you can take 1/3 of the mince and blend in a food processor with a splash of water to produce a sausage meat. Then combine with the remaining ingredients as normal.
Portion the pattie mix into 4 evenly sized pieces. Use wet hands to prevent the meat from sticking. Shape the burger patties to match the bun size, they should be about 1/4 inch thick. Keep the patties cool until ready to cook.
Season the patties with salt and pepper immediately before cooking. Salting too early will cause the meat to dry out, and seasoning the outside of the patties immediately before cooking helps create a nice crispy outer layer when searing/grilling.
Cook the patties over medium-high heat until well browned, this should take approximately 4-5 minutes each side. Optimum internal temperature is 70˚C.
To Serve:
Serve with your choice of cheese, salads, buns and sauce. Enjoy!