Venison Pot Pie with Pea Puree
| | |
| --- | --- |
| Prep Time | 1 hour |
| Cook Time | 15 minutes |
| Serves | 4 |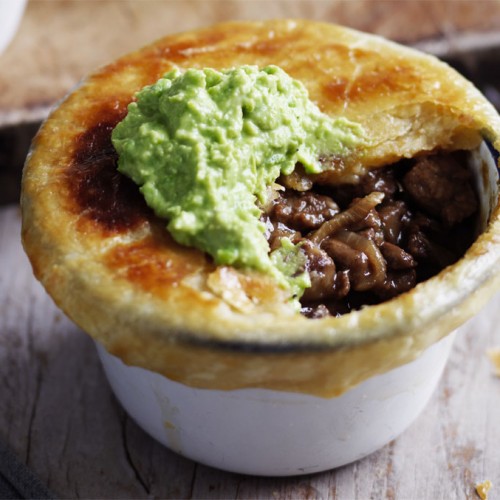 Ingredients
2 large shortcrust pastry sheets
1 egg, lightly beaten, for glazing
Pie Filling:
500g Premium Venison Mince
2 tbsp olive oil
2 onions, thinly sliced
1 garlic clove, minced
2 tbsp balsamic vinegar
250ml stock
1 tbsp fresh thyme, finely chopped
1 cup tasty/strong cheese, coarsely grated
Pea Puree:
200g frozen peas
3 mint sprigs
1 tbsp cream
2 tbsp vinegar or lemon juice
Method
Heat 1 tbsp of olive oil in large frying pan over medium to high heat. Add mince to pan and cook until well browned.
Meanwhile, heat another tbsp of olive oil in a saucepan, add onion and garlic and cook, stirring occasionally for about 7 mins until onion is tender. Add the browned venison, stock, balsamic and thyme, season to taste with salt and freshly ground pepper, reduce heat to medium and simmer gently, stirring occasionally for 30 mins.
Cool to room temperature, then divide among six individual ovenproof bowls or ramekins (about 1 cup-capacity), refrigerate to cool completely, then scatter the tops of each with a little cheese.
Preheat oven to 180°C. Cut out rounds from the pastry large enough to overhang the sides of your dishes by about 1cm. Brush edges with a little egg wash, then place over the venison mixture, egg wash side down (the egg wash will help seal the pastry to the dish).
Pierce or score a hole in the top of each pie, brush pastry with egg wash and bake for about 15 mins until pastry is golden brown.
While the pies are in the oven cook peas and mint in a saucepan of boiling salted water for about 2 mins until tender. Drain, discard mint and pulse in a small food processor with butter and cream to combine. Season to taste and just before serving stir though vinegar. Spoon on top of pies and serve.