Venison Ragout
with Fontina Cheese Foam
Sure to satisfy your comfort food cravings, this recipe is deliciously rich, healthy, and fresh all at the same time. Add a few crunchy fresh veggies such as blanched carrots and French beans, peeled cherry tomatoes, and parmesan shavings to bulk it up, and top with the fontina cheese foam to bring this dish to a gourmet standard!
| | |
| --- | --- |
| Prep Time | 1 1/2 hrs (plus 1h or overnight resting time) |
| Cook Time | 1 1/2 hrs |
| Serves | 3-4 |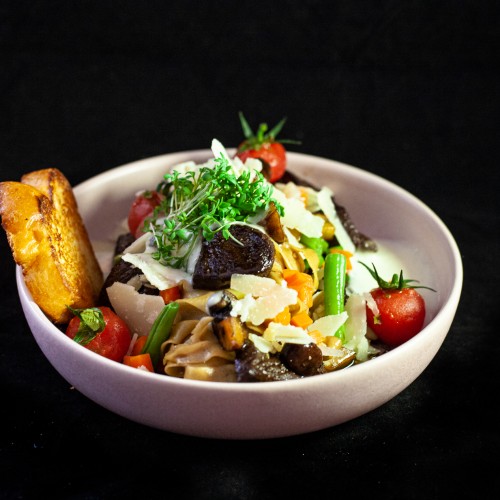 Ingredients
Pasta
130g semola
1 egg
1 tbsp olive oil
Water to moisten
Fontina Foam
70ml full fat sour cream
70ml buttermilk
50g fontina cheese (crumbled)
1 tbsp red wine vinegar
Salt
Venison Ragout
500g Duncan NZ Venison (diced in 1cm cubes)
1 tsp paprika
1/2 tsp dried thyme (or 1 tsp fresh)
100ml vegetable oil
1/2 cup carrot (finely diced)
1/2 cup leek (finely diced)
1/2 cup celery (finely diced)
2 cloves of garlic (crushed)
1 rasher of bacon (finely sliced)
100ml red wine
1/2 tsp red wine or balsamic vinegar
1 tbsp tomato paste
1 tsp Dijon mustard
Zest of 1/2 lemon
100ml meat stock
1 tbsp cornflour
Salt and pepper
Method
To make the pasta, mix all the ingredients and knead until combined well. Set aside to rest before using, a day before or an hour is totally fine. On a well-floured surface, roll the pasta out thinly and cut it into strips, thin for spaghetti, or wide for pappardelle.
When you are ready to serve the ragout, cook the pasta in salted boiling water for 2-3 minutes. Reserve half a cup of pasta water for adding to the ragout when serving. This recipe is also good for ravioli, cannelloni, tortellini or lasagne.
To make the foam, combine everything except the salt in a blender and puree until very smooth. Season the mixture with salt and pour it into the canister of a 1-pint iSi Gourmet Whip Plus siphon. Charge the siphon with one iSi cream (N20) cartridge according to the manufacturer's instructions. Shake the siphon and refrigerate until well chilled, about 30 minutes.
Now for the ragout. Spice the venison with the paprika, thyme and a good grind of pepper. Bring a large pan to high heat, add a drizzle of oil and fry the venison, tossing to ensure even cooking and colouring. Once the venison is browned (2-3 minutes), add the diced vegetables, crushed garlic, sliced bacon and sauté until the vegetables are soft (5 minutes).
Next, add the red wine, then the vinegar, tomato paste, mustard, and lemon zest. Stir and cook for one minute, then add the meat stock and allow the sauce to simmer on a low heat for one hour.
After 50 minutes to an hour, check on the sauce. If the venison is tender, then it is time to add the cornflour. In a small bowl, mix the cornflour with a drizzle of water to make a paste, this prevents clumps in the sauce. Add to the ragout sauce, then gently increase the heat, stirring until thickened. Season the sauce with salt and pepper.
To Serve:
Warm the ragout in a pan, add the freshly cooked pasta and combine well. Add a little of the pasta water to moisten the sauce and then serve hot with the vegetable toppings sprinkled over top. A dash of olive oil helps to enhance the flavour. Add the fontina foam by holding the siphon upside down and shaking it. Press the lever to release the foam.