Venison Sausage Rolls
| | |
| --- | --- |
| Prep Time | 1 Hour |
| Cook Time | 30 minutes |
| Serves | 4 |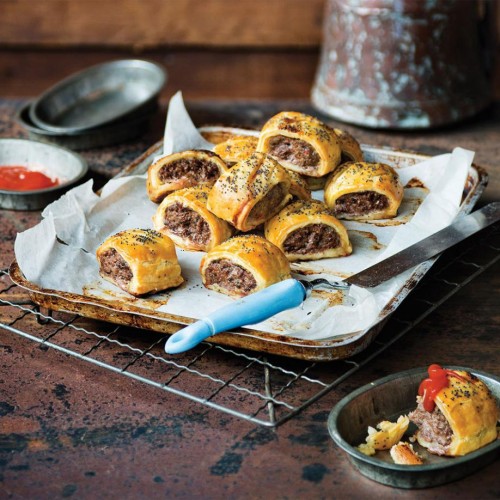 Ingredients
2 semi-frozen puff pastry sheets
1 egg, lightly beaten
1tbsp poppy seeds, to garnish
Filling:
500g Premium Duncan Venison Mince
1tbsp fresh chopped parsley (or 1 tsp dried)
1tbsp fresh chopped rosemary (or 1 tsp dried)
1 tbsp fresh chopped basil (or 1 tsp dried)
1/3 cup fresh breadcrumbs, or instant mashed potato flakes
1 tbsp sea salt
1 tbsp freshly ground black pepper
Method
Preheat oven to 200°C (180°C fan-forced) and line baking trays with baking paper.
In a large bowl, combine all filling ingredients and, using your hands, mix thoroughly, but gently.
Place pastry sheets on a lightly floured work surface and halve lengthways, to create four equally sized rectangles.
Evenly divide the venison mince filling into four, shape like sausages placing down the centre of each pastry rectangle; making sure pastry is able to encase the mixture. Firmly encase the sausage meat with pastry, sealing with egg glaze. Sprinkle with poppy seeds.
Place sausage rolls on prepared baking tray (seam side down) and chill for at least 30 mins. Cut each large sausage into eight small sausage rolls, snip the top of each roll with scissors to allow steam to escape during cooking and lightly brush pastry again with egg glaze. Evenly spread out sausage rolls onto prepared baking trays.
Place in preheated oven, cook for 25 - 30 mins or until pastry is crisp and cooked through. Allow sausage rolls to cool slightly before serving.