Venison Sticky Ribs
With Jerk Spice Rub and Tamarind & Lime Glaze
These Sticky Venison Ribs are truly decadent and sure to impress, soothing the soul with strong Autumn flavours. Be prepared to have your stomach rumbling for hours on end as the smell of these slow-cooked ribs wafts through the kitchen! When preparing venison ribs, allowing the ribs to soak in the cooking stock overnight will give the richest flavour, but is not absolutely necessary for this recipe.
| | |
| --- | --- |
| Prep Time | 2-12 hours |
| Cook Time | 3-4 hours |
| Serves | 4 |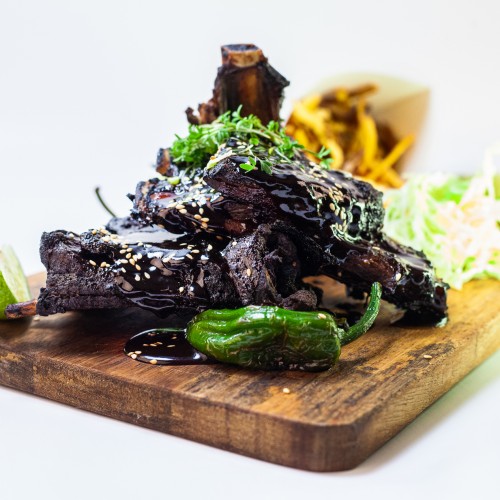 Ingredients
4 racks Duncan Venison Short Ribs
2 onions
2 cloves of garlic
2 celery sticks
1 carrot
1 large piece of celeriac
1L of beef or venison stock
Jerk Spice
2 tbsp cinnamon
2 tbsp peppercorns (ground)
2 tbsp allspice
1 tbsp dried thyme leaves
1 1/2 tsp cayenne pepper
1/2 tsp nutmeg
Sticky Sauce
1/2 cup of pineapple juice
100ml of tamarind paste/concentrate
1 tbsp brown sugar
50ml brown vinegar
Juice from 3 limes
Method
Preheat oven to 130˚C fan bake and rub the ribs with ground jerk spices.
Roughly chop the vegetables and fry in a pan until lovely and dark brown in colour. Once browned, place in a deep roasting tray and pour over the stock.
Oil the rubbed ribs and sear on both sides in a hot pan or grill, careful not to burn them. Once seared place in the roasting tray with the meat side down. You may have to cook them in batches.
Cover with a sheet of baking paper then with tinfoil (this stops the tinfoil sticking to the ribs if they come in contact). Bake at 130˚C for 3 hours.

Remove from the oven and for best results allow to cool in the stock overnight, but no fear if not. Drain off the liquid through a fine sieve and reserve for the sauce. Remove the ribs and set aside, when cooled they can be cut into portions or left whole, as you wish. Place the ribs on a tray, cover and keep in the fridge.
Now, for the sticky sauce. Add to a pot the reserved liquid from the ribs (strained), along with the pineapple juice, tamarind, brown sugar, and vinegar. Reduce until thickened and add the lime juice at the end. Add the juice slowly and taste as you go, you may not need all three limes.
Preheat the oven to 210˚C fan bake.
Take the ribs out of the fridge and brush with the sticky sauce, keeping ⅓ for a final brushing. Place in the oven for 7-10 minutes depending on how cold the ribs were (if fridge cold then 10 minutes if room temperature then approximately 7 minutes is fine). When finished brush the ribs again with the hot sticky sauce and serve.
To Serve:
These ribs are best served alongside your favourite fresh coleslaw and some crispy homemade fries, garnish with fresh thyme and leftover lime wedges.